Research
Genetic transformation in fruit tree species
Fruit tree breeding is often hindered by long generation times, large plant sizes, and reproduction barriers such as self-sterility, self-incompatibility, dioecy, etc. The same issues also complicate the evaluation of the function of unknown genes isolated from molecular genetic studies. We are developing novel breeding and gene evaluation techniques based on transgenic technologies such as agrobacterium-mediated gene transfer and virus-induced gene silencing (VIGS).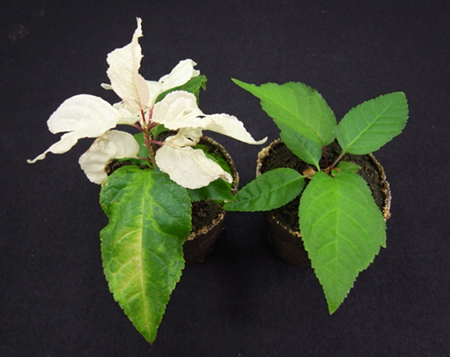 (Left) PDS-silenced VIGS seedling of sweet cherry, (right) control
References
Kawai, T., A. Gonoi, M. Nitta, M. Kaido, N. Yamagishi, N. Yoshikawa, and R. Tao. 2014. Virus-induced gene silencing in apricot (Prunus armeniaca L.) and Japanese apricot (P. mume Siebold & Zucc.) with the Apple Latent Spherical Virus vector system. J. Japan. Soc. Hort. Sci. 83:23-31.
Tetsumura, T., E. Giordani, and R. Tao. 2008. Persimmon (Kaki), p. 235-258. In: C. Kole and T. C. Hall (eds.). Compendium of Transgenic Crop Plants: Transgenic Tropical and Subtropical Fruits and Nuts. Blackwell Publishing, Oxford.