Research
Baby-persimmon
We are investigating the commercial usages of a new persimmon variety, "Baby-persimmon," that bears small fruits. We are also studying plant hormonal controls of important agronomic traits.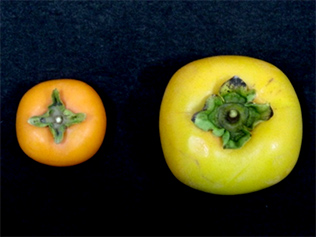 (Right) 'Hiratanenashi',
(Left) 'Totsutanenashi (also known as baby-persimmon)
(bud sport mutant of 'Hiratanenashi')
References
Yamane, H., M. Ichiki, R. Tao, T. Esumi, K. Yonemori, T. Niikawa, and H. Motosugi. 2008. Growth characteristics of a small-fruit dwarf mutant arising from bud sport mutation in Japanese persimmon (Diospyros kaki Thunb.). HortScience 43: 1726-1730.